ABT Betong AB, Sweden & Ruskon Betoni Oy, Finland
When looking for ways to produce concrete sustainably, there is one ingredient that cannot be overlooked – cement. Cement manufacturing represents about 8% of all carbon dioxide (CO2) emissions globally. Most of the CO2 emissions in concrete production are resulting from the burning of fossil fuels throughout the process from cement manufacturing to heating of raw materials and buildings.
If you google green or environmentally friendly concrete, you will get several definitions. Eventually you will learn that it can be a concrete which is produced out of waste materials like fly ash or recycled materials, or that the production of the concrete consumes less energy or creates less carbon dioxide emissions compared to traditional concrete production methods.
Polarmatic Oy is a Finnish concrete technology manufacturer who has been involved in green concrete production already for decades, even before the term green concrete was known. The company offers solutions for ready-mix and precast concrete producers who want to improve their concrete manufacturing processes and to increase the quality of their final products, and who at the same time want to support sustainable concrete production principles.
Define Correct Material Quantities Easily
Water is a vital element for life, but also one of the main ingredients in concrete. When we think about the concrete texture and ingredient usage, the water-cement ratio is important for reaching the required strength and other properties of the concrete.
As we know, the production process of cement creates most of the concrete related emissions, and that it is also the most expensive ingredient of concrete, it is very important to add precisely the correct quantity – enough, but not too much – of cement into a concrete mix. There is always some moisture in the aggregates, and with the help of a reliable aggregate moisture measurement technology, concrete producers can easily determine the exact water amount already brought in with the aggregates and match it with the right amount of cement to reach desired quality. There is no longer a need to over-compensate by adding extra cement just to be sure not to compromise in the strength of the concrete.
Polarmatic has brought to the market an optical, contactless moisture measurement sensor POLARMOIST which will quickly and reliably indicate the moisture level of the aggregates in real time. Measuring the moisture of the aggregates is an easy, yet remarkable step towards cutting the final emissions of the concrete produced.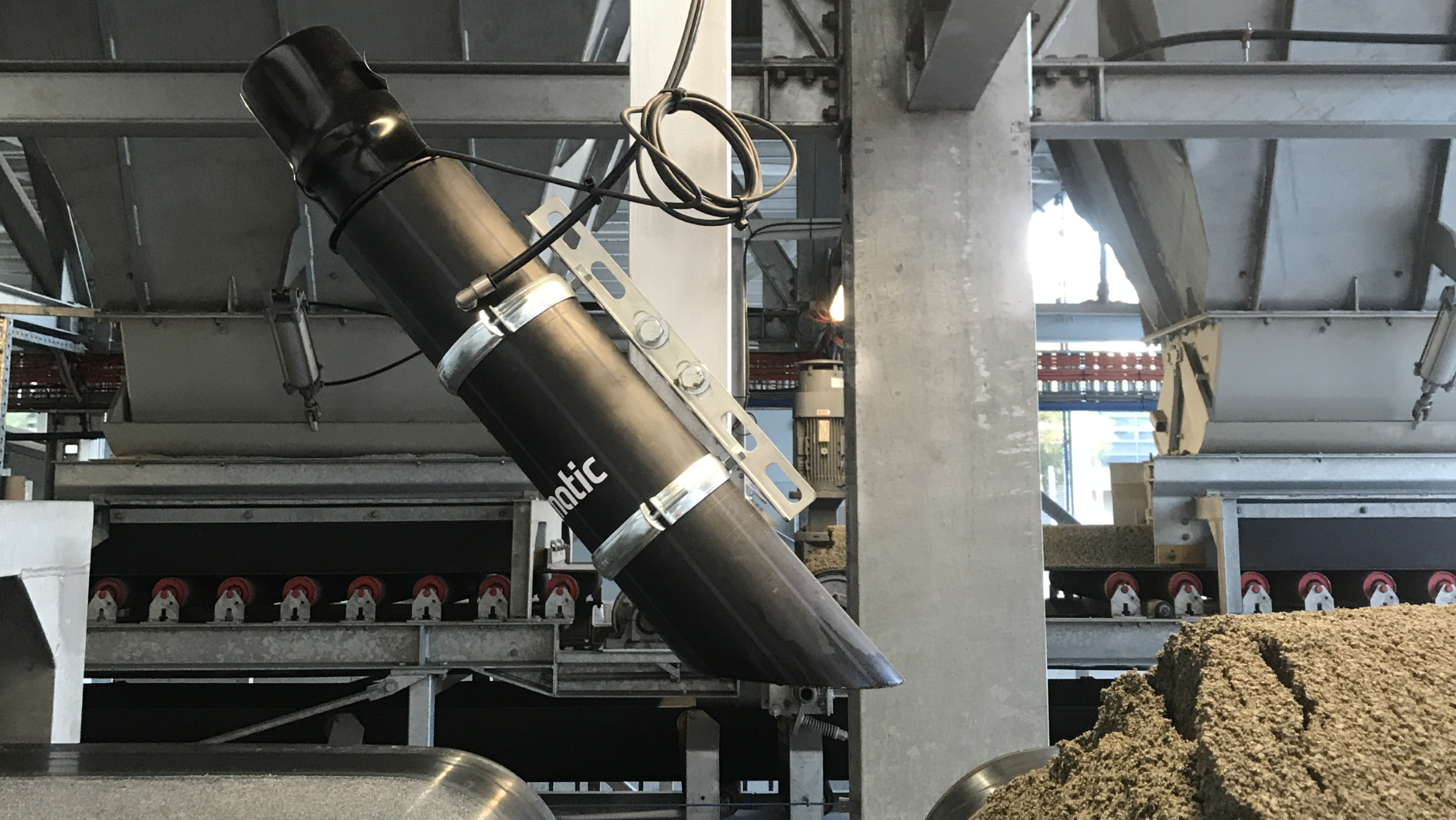 Better Energy Efficiency & Less Emissions
Especially during the colder season, concrete producers need to consider how to handle the aggregates before mixing the concrete to ensure the production of high and stable quality concrete. TURBOMATIC aggregate heating system is known to be an energy-efficient solution using all the energy produced in the system. Through its efficiency, concrete producer can reach 80% savings in fuel costs, and when the system is running on biofuels, emissions can be cut by more than 90%.
TURBOMATIC is a system that can also take care of heating your production and office premises, as well as heating the water needed for concrete production and for truck mixer washing and saddle tank filling. With today's energy and fuel prices, the investment is paid back within just a few months, and the factory will quickly start making extra profit for the company while also producing greener concrete.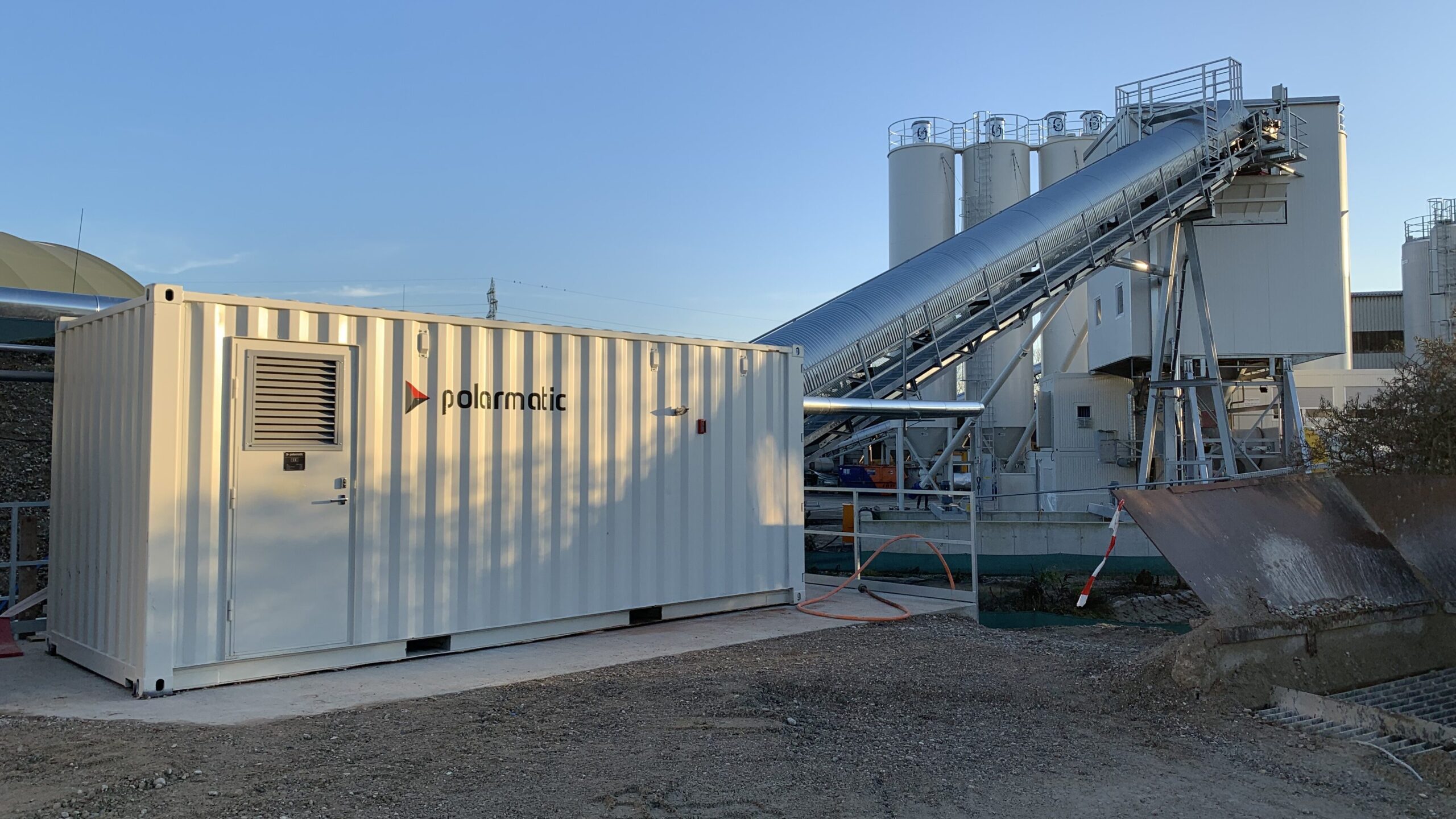 Convert Your Heating Unit to Be Biofuel Compatible
Another easy way to start cutting emissions in concrete production is to adapt the existing technological solutions to work more energy-efficiently and sustainably. According to a report from European Climate Foundation, by using and adapting the technologies already available today, we could lower emissions by 80 percent. As a part of Polarmatic's sustainability program with ambitious targets, the company encourages its customers to convert their older heating systems to run on biofuels.
"Polarmatic units are designed and built durable. This, among other things, makes them sustainable and while developing new innovative solutions, we have always kept in mind our nearly 1300 units in operation worldwide. All our latest biofuel options are available also as retrofits to existing units." says Polarmatic CEO Mia Kauhanen.
All Polarmatic systems support biofuel usage, and these biofuels can be obtained from several different sources depending on availability in the market e.g. biodiesel from rapeseed oil, biogas from communal biowaste and bio-oil from biomass or from fish oil.
Bio-oils are often seen as the most promising feedstocks to replace petroleum fuel for power generation due to high energy density, and convenience in storing and transporting compared to gaseous products. In addition, bio-oils are generally biodegradable, CO2 or greenhouse gas neutral and they generate significantly less NOx and SOx compared to petroleum-based fuels.
Solutions running on biofuels are supporting sustainability targets, and with Polarmatic's unique solutions the heating of the aggregates, water and premises in concrete industry can be done without emissions. The positive impact on the environment will be remarkable and it is achieved without compromising any of the features of quality concrete and concrete products.
Green Technology for New Batch Plant
ABT Betong AB (later ABT) is a Swedish start-up company which serves ready-mix concrete customers in Stockholm area. The company owns two batch plants in the area, one on the Northern side of the city, and the second, a brand-new one which got opened in summer 2022, locates in Nykvarn, on the Southern side of Stockholm.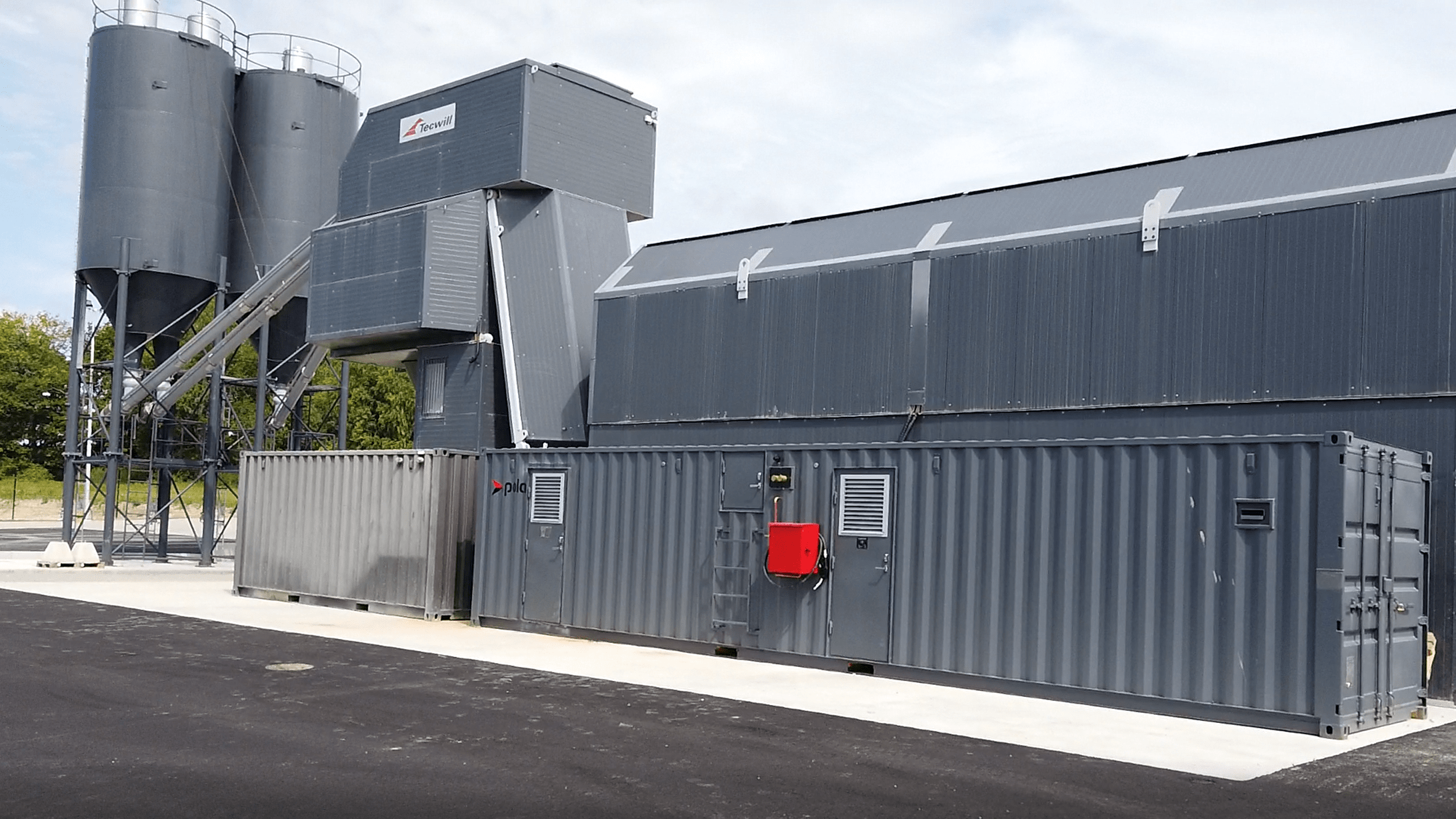 ABT's sustainability vision is to be 100% circular economy compliant by the year 2045, and therefore they have started to invest in technology that is helping them to reduce their environmental impacts.
The direct water related emissions in concrete production are generally rather small, but in many countries the industrial wastewater usage is governed with strict regulations. In Sweden, a concrete producer needs to recycle all the wastewater and reuse it in the concrete mixing process. In addition to reusing the water, ABT is also reusing all the residual aggregates and concrete. As ABT also targets to cut their transportation and production related emissions, they, where-ever possible, favour biofuels.
In 2021 Joakim Larsson, CEO of ABT Betong AB, contacted Polarmatic Oy to find green technology solutions for their new batching plant. From the beginning it was clear that the partner to support ABT's sustainability vision best is Polarmatic. Today, the new plant in Nykvarn is equipped with modern and environmentally friendly device; aggregate and water heating system TURBOMATIC which is running on biofuels, and cement usage is optimized by using a contactless aggregate moisture measurement sensor POLARMOIST. The batch plant control system ProConX by Polarmatic, which is the most modern and advanced control system in the market, includes also the fleet management module which helps ABT e.g., to plan the trucking routes and schedules carefully in order to optimize the vehicle usage and to minimize the transportation related emissions.
"We have TURBOMATIC heating unit, and we like how efficient it is. We use another technology on our Northern Stockholm plant, but we think that TURBOMATIC in Nykvarn is quite much more efficient. This particular model we have is also running on biodiesel which supports our future vision well.
We have also ProConX control system from Polarmatic, and in my opinion, it is the best system available in Northern Europe. In addition to the system being very user-friendly, the service and commitment from the Polarmatic staff is GREAT.
Throughout the whole project, Polarmatic offered us very good service and the systems they provide are excellent and support our green targets and values.", says Larsson, who has near 30 years' experience in concrete industry.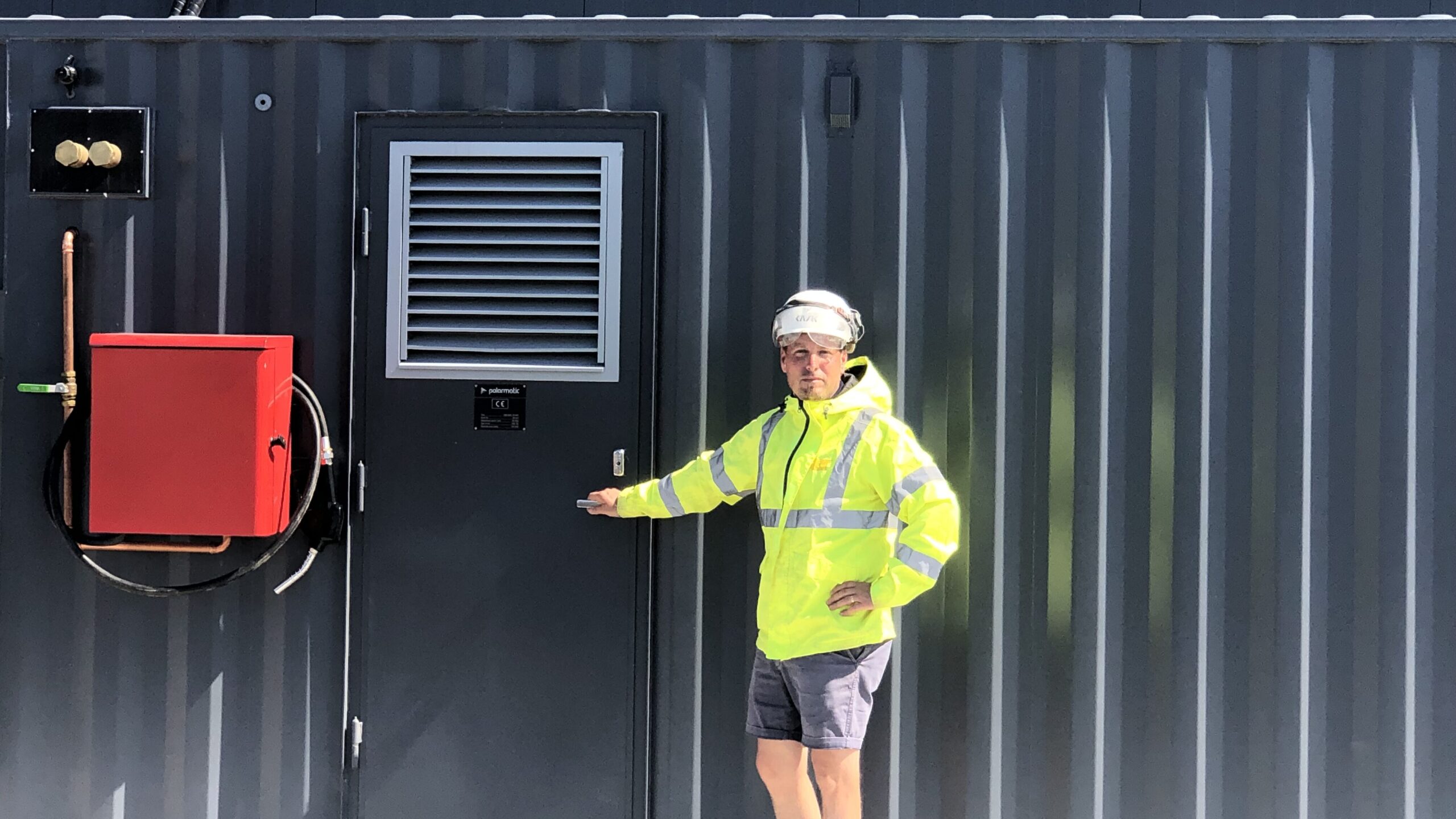 Cutting Emissions at an Existing Batch Plant
Ruskon Betoni Oy, one of the largest concrete producers in Finland, was looking for solutions to reduce the carbon footprint of their plant in Oulu. Polarmatic is known as an innovative technology leader in heating solutions, and it was only natural that Ruskon Betoni chose to partner with them. There is local availability of biogas from a landfill, and it was chosen as the fuel for the new sustainable Turbomatic heating solution by Polarmatic. There were some challenges as there often are when doing something new but with excellent co-operation, they were all resolved.
Aggregate heating and water heating is now done more energy-efficiently and sustainably, which helps Ruskon Betoni to achieve their targets in reducing their emissions with a target to become carbon neutral.
"After the first winter, carbon emissions were reduced by 65% already", Arto Väänänen, Technical Director of Ruskon Betoni, calculates. "Based on this experience, I would recommend biogas-fueled heating solution to concrete producers. Production volumes or quality of concrete are not compromised while cutting emissions remarkably and saving money on the energy bill", Väänänen encourages.